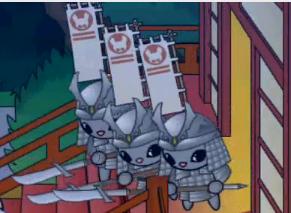 "Honor and glory to the Samurai blade" (Bunnykill 4)
Samurai (Guards)
Edit
The Samurai first appeared in Bunnykill 4. The Samurai wear strong armor and carry flags on their back. Unlike other more agressive Samurai like Snowball, these Samurai are more of a defensive type. They also attack very quickly and can hold their own against Snowball for a short amount of time.
Snowball only fought 5 Samurai in Bunnykill 4.
The Samurai have 1 accounted for kill in the Bunnykill series. (Which is 0.003% of the total kills in the series.)
Ad blocker interference detected!
Wikia is a free-to-use site that makes money from advertising. We have a modified experience for viewers using ad blockers

Wikia is not accessible if you've made further modifications. Remove the custom ad blocker rule(s) and the page will load as expected.